POSTPONED
(Date to be confirmed.)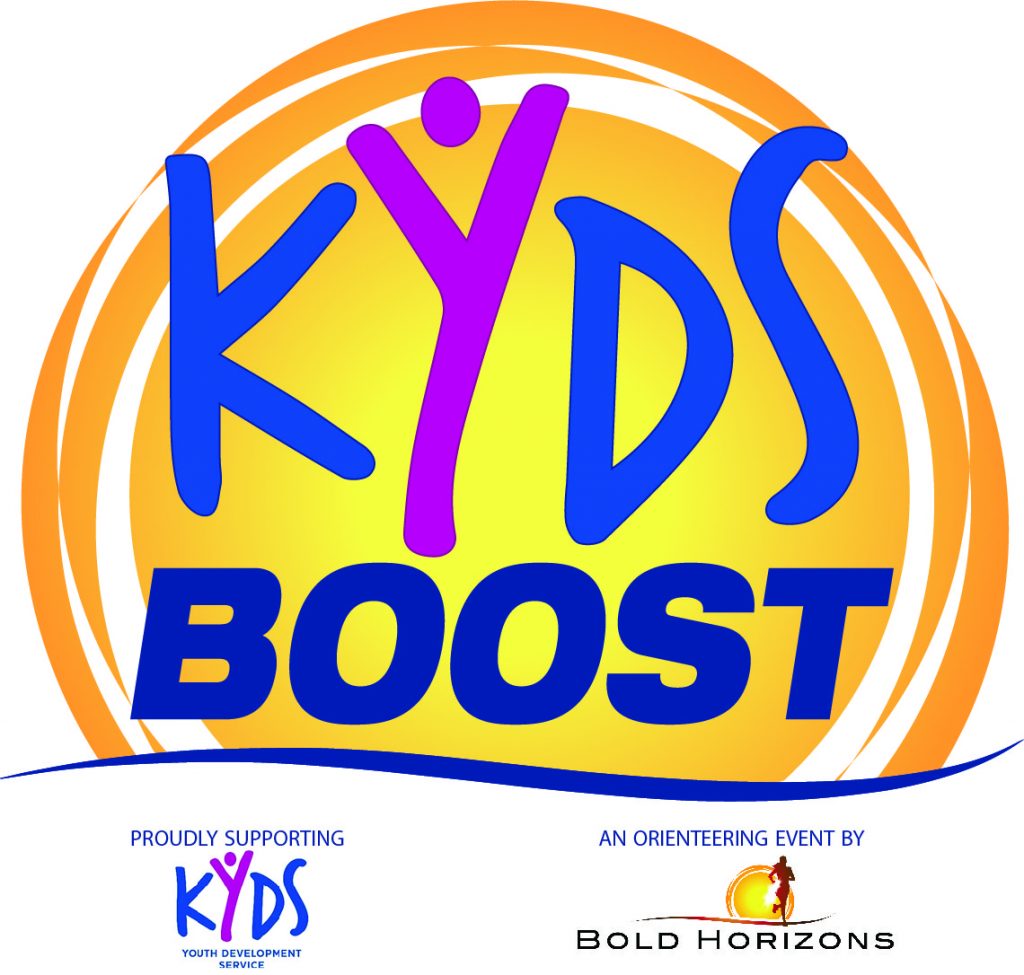 KYDS BOOST is an orienteering event for all ages and experience levels.
Five years old, 105 or somewhere in between? This event is suitable for all age groups, please join us;
There's a course for all fitness levels;
Beginners are very welcome with no compass or special equipment required and help on hand to get you started.
With COVID impacting everyone's event schedules, we will confirm the location of the 2021 event as soon as we are able.

The 2021 BOOST event will be in support of
KYDS Youth Development Service.
KYDS provides free and confidential counselling to children and young people when they need it, for as long as they need it, across northern Sydney. With over 90% of young people who accessed KYDS rating the service as Very Good or Excellent, you know it is an outstanding service and one that we are pleased to support as they experience unprecedented demand for counselling services.

Every donation helps. Whether it's a few dollars or lots of dollars, it all helps KYDS to provide accessible and effective help for our youth as they navigate these challenging times. If money is tight, no problem, register and come along anyway. There might be another time or another way for you to help out. We get that life's not always easy.
---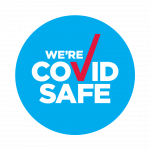 This event will be conducted as a COVID Safe event.
Applicable regulations, guidelines and check-in requirements on event day will apply.
In need, the event may be postponed or cancelled.
Please note that any donations made to KYDS Youth Development Service are just that. They are not refundable or transferable should the event be changed in any way.
---
Course Options and Registration
Pre-registration is essential! Register before midday 18 November 2021.
Choose a course of the distance and navigation standard that suits you. There's short and novice navigation standard, longer with challenging navigation or other combinations to suit your personal preference. All courses are entirely within the College grounds.
Tackle your chosen course at your own speed: slow and steady or fast and intense, it's up to you. You can also choose to participate in a friendship (COVID permitting) or family group if you choose.
Courses will be open for starts between 9:30am and 12:00pm.
Register online, then turn up on the day and start at any time within this window.
There will also be a maze featuring courses from the World Maze Race event earlier in the year. This is your chance to match the fastest maze runners from across the globe! Run your own race or challenge a friend to Duel!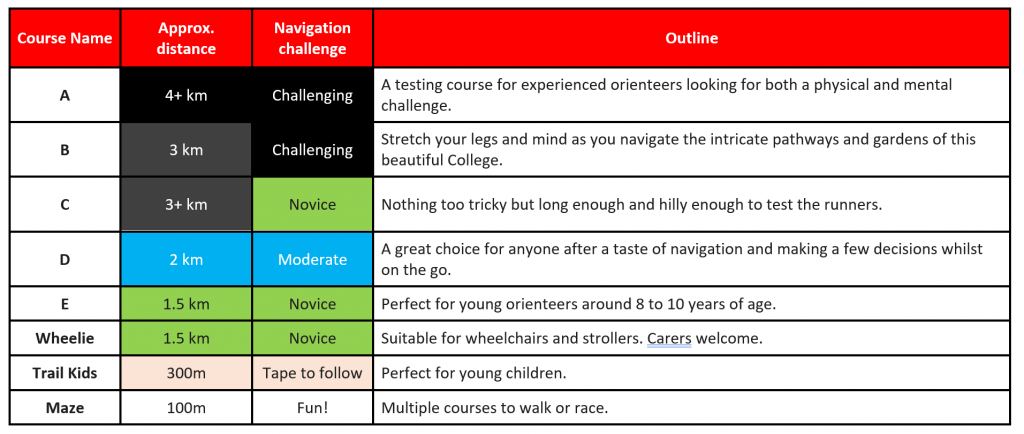 ---
Equipment and Event Timing
Come prepared ready for an active morning.
Comfortable clothes and enclosed shoes ready for a run or walk are suitable.
All courses will use electronic SPORTident timing. Each competitor must have their own personal timing card for the event. If you do not own a SPORTident timing card, hire cards can be reserved during the entry process.
Regulars can expect the SPORTident units to be in "Air" mode for contactless registration at each checkpoint.
If you participate in orienteering events regularly, it might be worth purchasing your own card. The registration process includes an option to purchase your own card which will be available for collection on event day.
---
Volunteers
We love volunteers and would be most appreciative of help on the day. If you have some free time, then join the event team! From the event entry page you can opt in. Note that if you are over 18 you will need a working with children check number.
---
Refreshments
There will be a BBQ by the 1st Pymble Scouts providing sausage sandwiches as well as a vegetarian lunch option and cold drinks. They are a great bunch at 1st Pymble Scouts. The Scouts will also be supporting KYDS Youth Development Service.
A coffee van and Ben and Gerry's gelato van will also be attending the event.
---
Results
Live results for the event will be published to the Bold Horizons results web listing.
---
Photography
Bold Horizons will publish event photographs and may retain these for future promotional efforts. A release for this is included as part of the entry process. Please contact Bold Horizons directly if this is a problem.
Note that members of the public may also take photographs during the event and we have no control over their publication.
---
Insurance and Risk
Orienteering is an adventurous activity and there are risks such as tripping or collisions with other entrants associated with participation. All entrants in this event must accept a risk statement and waiver during the entry process.
Whilst Bold Horizons has its own public liability insurance there is no personal accident insurance associated with this event and that all entrants participate at their own risk.
We strongly recommend that entrants maintain their own private health and ambulance cover.
---
Event Preparation
Bold Horizon's Saturday Orienteering Series will provide an ideal introduction. Come along and try out a course.
On Saturday 20 November, there will be a sprint event at the Knox Grammar Senior School which will be a perfect warm up and reason to make it a weekend of orienteering.
---
Event News and Updates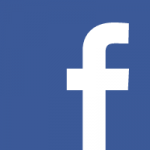 This web page will be updated with additional news and information however we recommend also following Bold Horizons and our KYDS BOOST event on Facebook to receive additional event updates.
KYDS Youth Development Service also have a Facebook presence. They are worth following to keep up with all of there fantastic work as they make a real difference in our community.
---
Further Information
Please contact Barbara at Bold Horizons.
Email barbara@boldhorizons.com.au
Mobile 0418 270 476

WWW.BOLDHORIZONS.COM.AU
If you would like to sponsor the 2021 event and join us all in helping the health and wellbeing of Sydney teens give us a call. We'd love to hear from you.