Forest Fundamentals sessions introduce you to key off-track navigation skills.  The sessions are hands on as we focus on map and contour interpretation as well as skills for cross-country navigation and orienteering.  Compass use is introduced as well as tools to help you navigate where you want to go.  Our team of experienced and friendly coaches are ready to help you progress your navigation skills.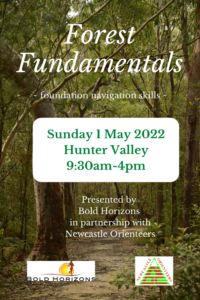 These sessions are perfect for orienteers wishing to progress to bush events or to improve skills for moderate level orienteering.  Skills are also transferable to adventure racing, bushwalking and rogaining.  We welcome all ages and experience levels but generally recommend a minimum age of 12 years for these sessions.
Enquiries: Please contact Barbara on 0418 270 476 or email on barbara@boldhorizons.com.au.
What should I bring?
A sense of adventure and good humour!
Comfortable clothes for exercise including leg cover for all off track training please (track suit bottoms or running tights are fine).
Compass and plastic whistle.
Water bottle.
Hat and sun cream.
Wet weather gear if inclement (we don't generally postpone or cancel if wet weather is forecast, so bring along wet weather gear and a change of clothes if it looks like being wet).
Asthma puffer or any personal medications that you may require.