To avoid the disappointment of missing out, we recommend registering early for these popular weekends.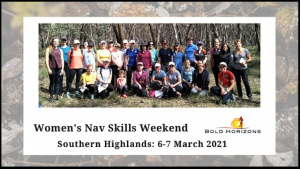 In 2021 we will be conducting two weekends in the Southern Highlands.
Women's Navigation Skills Weekend: 6-7 March 2021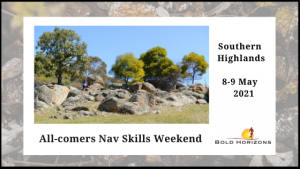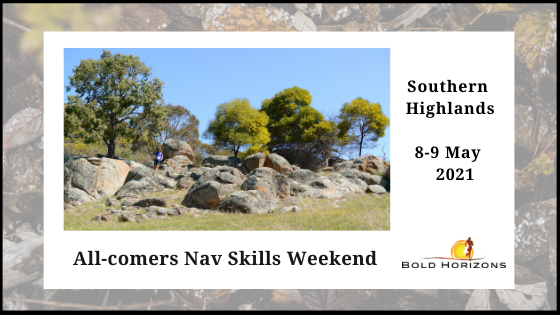 All-comers Navigation Skills Weekend: 8-9 May 2021

Who are the weekends for?

People keen to learn or improve off-track navigation and orienteering skills.  We suggest a minimum age of 13 years.
The women's weekend caters specifically for women and generally includes all female coaches. 
Our all-comers weekend welcomes any gender with a diverse collection of coaches to ready to assist you with your navigation.
You are very welcome if you have never navigated in a bush environment before.  You are also very welcome if you are experienced but just want to brush up on skills or sneak in some practice (and spend time with an awesome bunch of people!).
Beginner, intermediate and advanced level training options will be available.
Across this weekend, we utilise orienteering maps as this gives an opportunity to focus on learning and practicing navigation techniques in a focussed way and in a confined area.  The techniques and skills that we practice are equally applicable to finding your way on any map but will be especially useful to orienteers.  We learn and practice compass use as well as reading and understanding land forms and how they are represented on a map.  We also teach navigation techniques to apply in different scenarios.  The weekends are hands on and active.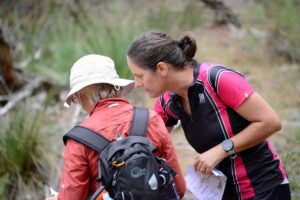 We will meet up at 10:30am for an 11am start on the Saturday and expect to conclude by 3pm on the Sunday.
In the week preceding the event we will email you with precise location and meeting details for the weekend.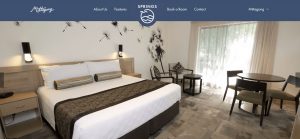 We have reserved accommodation which is both convenient and comfortable to ensure that you can relax, get a great night's rest and really enjoy the social side of our weekend away. 
In 2021 we are recommending that our guests stay at Springs Mittagong Resort.
Whilst we have included accommodation in past weekend packages, in the new COVID normal we feel it is important that everyone can choose their own accommodation and any room mates.  We have therefore reserved, in the name of "Bold Horizons", rooms which are a combination of:
Budget twin rooms at $140
Executive twin rooms at $190
Executive King rooms at $190.
Guests should contact the Resort directly ((02) 4871 3133, mittagong@springs.com.au) to book one of our reserved rooms (or any alternative rooms which may be available).  Our reserved rooms will be released to the general public one month prior to the training weekend.
Springs Mittagong Resort is right next to Mittagong RSL which makes for an easy walk to and from our Saturday evening shared meal.
Of course, you can also book into any other accommodation of your choosing or return home for the Saturday evening.
 Saturday Evening Meal and Sunday Breakfast
On Saturday evening, guests are invited to join the group to share a meal in a private room at Mittagong RSL (subject to COVID).  Meals may be ordered from the club's Ironstone Bar and Grill menu.  The menu is varied and includes woodfired pizzas, pasta, burgers, steak, fish and chips and more with main meal prices geenrally in the $20 to $30 range.
The evening meal is a great way to get to know each other better as we share laughs and stories from the day.  We will also be treated to a talk by one of our fabulous coaches which promises to bring new insights to your outdoor adventures. 
The Mittagong RSL will also open for breakfast from 7am on Sunday morning which guests are welcome to attend.  Again, there is a wide variety of options available from the menu.
The recommended accommodation venue, Mittagong Springs Resort, is right next door to the RSL.
Participants should make their own transport arrangements.  
A sense of adventure and good humour!
Comfortable clothes for two days of exercise including leg cover (track suit bottoms or running tights are good options).
Compass and whistle.
Camping chair.
Lunch, snacks and a water bottle for each day.
A change of clothes for dinner on Saturday night plus PJs and toiletries.
Early bird
$120
Women's Weekend closes 23/1/21
All-comers Weekend closes 27/3/21
Standard registration
$135
Women's Weekend closes 23/2/21
All-comers Weekend closes 27/4/21
Late registration
$150
Women's Weekend closes 1/3/21
All-comers Weekend closes 3/5/21
Cancellations can be made up until the Late Registration window with a $20 administration fee retained.
Guests should also budget for meals and Saturday evening accommodation.
Two days of training activities tailored to assist novices through to highly experienced navigators
Coaching by accredited, first class coaches
Maps and all land access fees
Extensive risk management planning and weekend coordination
Saturday evening talk
Please contact Barbara on 0418 270 476 or email on barbara@boldhorizons.com.au.