Forest Fundamentals sessions introduce you to key off-track navigation skills.  The sessions are hands on as we focus on map and contour interpretation as well as skills for cross-country navigation and orienteering.  Compass use is introduced as well as tools to help you navigate where you want to go.  Our team of experienced and friendly coaches are ready to help you progress your navigation skills.
These sessions are perfect for orienteers wishing to progress to bush events or to improve skills for moderate level orienteering.  Skills are also transferable to adventure racing, bushwalking and rogaining.  We welcome all ages and experience levels but recommend a minimum age of 12 years for these sessions.
Enquiries: Please contact Barbara on 0418 270 476 or email on barbara@boldhorizons.com.au.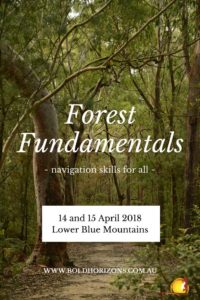 Our next Forest Fundamentals sessions:
Saturday 14 April 2018 – Knapsack Reserve, Glenbrook
11am to finish by 4pm.   Meet by the corner of Barnet and York Streets, Glenbrook.  (Thanks to Western and Hills Orienteers as well as Blue Mountains City Council for facilitating this day.)
Sunday 15 April 2018 – Mitchell Park (which is within Cattai National Park), Maraylya
11:30am to finish by 4pm.  Enter off Mitchell Park Rd and look for the Bold Horizons banner.  Note that National Park's charges a fee of $8 per vehicle for access to the Park.  (Thanks to Garingal Orienteers as well as National Parks for facilitating this day.)  There is an orienteering event at Mitchell Park in the morning.  Participants are welcome to try an orienteering course first and then join in the coaching from 11:30am.
Attend either or both days.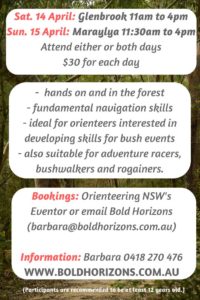 Cost:  $30 per day.
Registration:
Email barbara@boldhorizons.com.au and pay in cash or by electronic transfer (you will also need to sign a risk statement and disclaimer on the day); or
register and pay via Eventor.
What should I bring?
A sense of adventure and good humour!
Comfortable clothes for exercise including leg cover for all off track training please (track suit bottoms or running tights are fine).
Compass and plastic whistle.
Lunch and snacks for both days as well as a water bottle.
Hat and sun cream.
Wet weather gear if inclement (we don't generally postpone or cancel if wet weather is forecast, so bring along wet weather gear and a change of clothes if it looks like being wet).
Asthma puffer or any personal medications that you may require.