Join us for the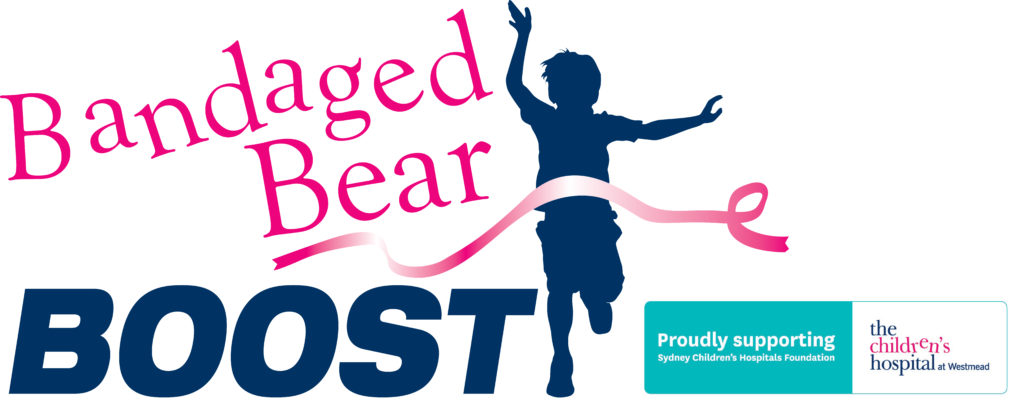 A bearishly good adventure
in aid of 
The Children's Hospital at Westmead.
OUR NEXT BOOST IS SCHEDULED FOR NOVEMBER 2021.
PLEASE JOIN US!
Bandaged Bear BOOST highlights include:
It's open to everyone with first class, enjoyable courses available for all.
Set in the beautiful park-like grounds of Pymble Ladies' College.
Beginners and experienced orienteers are welcome with courses for novices as well as experienced orienteers.
Choose a course to suit you. Courses will vary by distance and difficulty.  Race, run, walk or roll the wheelchair or stroller.  Entrants will also be welcome to participate individually or in a group with friends or family.
Course distances will range from a 1.5km romp through to a challenging  4+km course which winds through the complex building and garden network.
There will also be a maze to explore on event day.
It's all in aid of

The Children's Hospital at Westmead

with 100% of entry fees received and additional funds raised all being directed to the hospital.

Courses
Navigate an orienteering course through the beautiful park-like grounds of Pymble Ladies' College. It doesn't matter if you haven't orienteered before – it's a school, you can't get too lost! Right? Courses vary by difficulty and distance.  When you enter the event, choose the course that suits you.  Entrants are welcome to walk, run or race.  Both running individually or with a buddy (that has also entered) are welcome.
Courses will be open for starts between 10am and 12:00pm.
Course Options
| | | | |
| --- | --- | --- | --- |
| Course Name | Approx. distance | Nav challenge | Outline |
| A | 4.5km | 3 | A testing course for experienced bears after a physical and mental challenge. |
| B | 3.5km | 3 | Not too hot and not too cold, this course will be just right for bears wanting to stretch their legs and minds. |
| Corporate Challenge | 3.5km | 3 | Executive bears will enjoy this challenge. |
| D | 3km | 3 | A little tricky but certainly achievable for most teen and adult bears. |
| E | 2km | 2 | A beary good course for newcomers and growing cubs looking to test themselves. |
| F | 1.5km | 1 | Perfect for young cubs around 8 to 10 years of age. |
| Wheelie | 1.5km | 2 | Suitable for wheelchairs and strollers. Carers welcome. |
There will also be a maze and a special course available for the under 8's. Entry will be at the event.
Subject to course capacity limits, entry on the event day will be available.  Please note however that entry on event day participants will not be included in the Lucky Draws.

Corporate Challenge
Why not support your staff to be active, healthy and engaged whilst also contributing to the  community and our next generation?
We have a special course for staff to challenge themselves and each other.
To prepay for employees and enter the Corporate Challenge please email info@boldhorizons.com.au to obtain a promotional code for staff to enter the event.
Entry Fees
Ages (as at 31/12/19)
Enter before 1/11/19
Entry from 1/11/19
to midnight 19/11/19
Entry at event
Young child (0-7 years)
$0
$5
$10
Child (8-12 years)
$15
$20
$25
Youth (13-17 years)
$20
$25
$30
Adult (18+ years)
$25
$30
$35
Families (up to 2 adults and 4 under 18's)
$90
$110
$130
Payment processing fees will also apply to online entries.
Note that no refunds, cancellations or transfers are available.
Entry for the maze and a special under 8's course will be at the event.  A gold coin donation is invited for entry on these courses (which will be donated to The Children's Hospital at Westmead).
Event Timing
All courses will use electronic SPORTident timing. If you do not own a SPORTident timing card, they can be hired for $5 for the day and should be reserved when you enter the event.  Regulars can expect the SPORTident units to be in "Air" mode for contactless dibbing.
If you participate in orienteering events regularly, it might be worth purchasing your own card.  Entry also includes an option to purchase your own card which will be available for collection on event day.
Raffles and Prizes
Raffle
There will be a raffle conducted as part of the Bandaged Bear BOOST. Raffle tickets may be purchased at the event. The draw will take place during the Bandaged Bear BOOST presentations.
Note that raffle donations are very welcome. Please contact Barbara directly if you would like to multiply out your contribution by donating to the raffle prize pool.
Lucky Draw
Thanks to our wonderful supporters, there will be a lucky draw for pre-entered participants.
Course Prizes
Fastest runners on pre-entry courses will be recognised.
Note that all prize winners must be at the presentations to collect their prizes.
Prize Ceremony
A prize giving ceremony will be conducted at 1pm (or as soon as possible afterwards).
Fundraising
The Bandaged Bear BOOST is a fundraiser for a fantastic cause and we ask that you consider adding to your entry fee donation by making an additional personal contribution.
One hundred percent of Bandaged Bear BOOST entry fees received as well as additional funds raised will be donated to The Children's Hospital at Westmead. In particular, funds will be directed to the Adolescent Medicine Unit. The Unit provides critical services to adolescents and their families who are referred to the hospital. The Unit cares for 20% of children admitted to the hospital and treats a range of illnesses which are both diverse and challenging.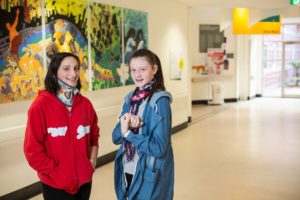 The medical team at the Adolescent Unit adopt a unified medical and psychosocial approach which is supported by the most recent research and evidence. In a 'youth friendly' environment teens are cared for in the best possible circumstances with a key objective of helping them progress and look forward to a healthy adulthood.
Funds raised by the Bandaged Bear BOOST will assist with research and education programs plus vital patient monitoring equipment.
Volunteers
We love volunteers and would be most appreciative of help on the day. If you have some free time, then join the team! From the event entry page you can opt in. Note that if you are over 18 you will need a working with children check number.
Refreshments
There will be a BBQ by the 1st Pymble Scouts providing sausage sandwiches as well as a vegetarian lunch option and cold drinks.
They are a great bunch at 1st Pymble Scouts.  As well as supporting Westmead, funds raised from the BBQ will also bsupporting Scout groups impacted by the current drought that has enveloped NSW.
Bandaged Bear Boost sponsors, Campbell's Superior Meats of West Pymble will be supporting the BBQ.  The snags will be great!
A coffee van will also be attending the event.
Transport
We recommend catching the train to the Bandaged Bear BOOST. The event centre at Pymble Ladies' College is a short walk (400m) from Pymble train station.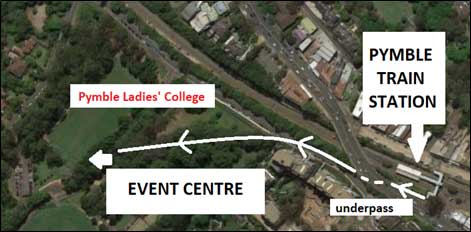 Undercover car parking will be available within the grounds of Pymble Ladies' College (enter via Gate 3 on Avon Rd) plus additional on street parking is available on Avon Rd and close by streets.
Note that the closest train stations with disabled facilities are Gordon and Turramurra.
Results
Results for the event will be published and linked from this web site.
Photography
Bold Horizons will publish event photographs and may retain these for future promotional efforts. A release for this is included as part of the entry process. Please contact Bold Horizons directly if this is a problem.
Note that members of the public may also take photographs during the event and we have no control over their publication.
Insurance and Risk
Orienteering is an adventurous activity and there are risks such as tripping or collisions with other entrants associated with participation. All entrants in this event must accept a risk statement and waiver during the entry process.
Whilst Bold Horizons has its own public liability insurance there is no personal accident insurance associated with this event and that all entrants participate at their own risk. We strongly recommend that entrants maintain their own private health and ambulance cover.
Event Preparation
Bold Horizon's Saturday Orienteering Series will provide an ideal introduction. Come along and try out a course. Term 4 events will all be on Sydney's north shore.
On Saturday 23 November, there will be a sprint event at the Knox Grammar Senior School which will be a perfect warm up and reason to make it a weekend of orienteering.
Event News and Updates
We recommend also following Bold Horizons and the Bandaged Bear BOOST event on Facebook to receive additional event updates.  Final event details will be emailed to entrants in the week preceding the event (after pre-entries close).

Further Information
Please contact Barbara at Bold Horizons.
Email barbara@boldhorizons.com.au
Mobile 0418 270 476

WWW.BOLDHORIZONS.COM.AU
The Bandaged Bear Boost wouldn't be possible without the amazing support of Pymble Ladies' College.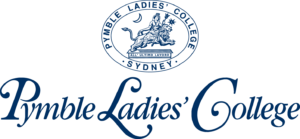 We are extremely grateful to the College for making their grounds available for this fundraising event for children seeking treatment at the Children's Hospital at Westmead.
If you would like to sponsor the 2019 event and join us all in helping the health and wellbeing of children and adolscents in need of support from The Children's Hospital, give us a call.  We'd love to hear from you.
Contact Barbara at Bold Horizons, (barbara@boldhorizons.com.au) Mobile 0418 270 476 for all support and sponsorship enquiries.