Date/Time
Date(s) - 12/12/2020
7:15 am - 9:30 am
Location
Raging Waters Sydney
iCal
This Saturday Orienteering Series event will be outrageous.  There will be water, there will be slides, rides and a wave pool, there will be courses to navigate on the run and a torrent of action.  Come and join us for this unique event.
ENTER BELOW.   ENTRIES CLOSE AT MIDDAY 10 DECEMBER 2020 WITH ENTRY ON THE DAY AVAILABLE.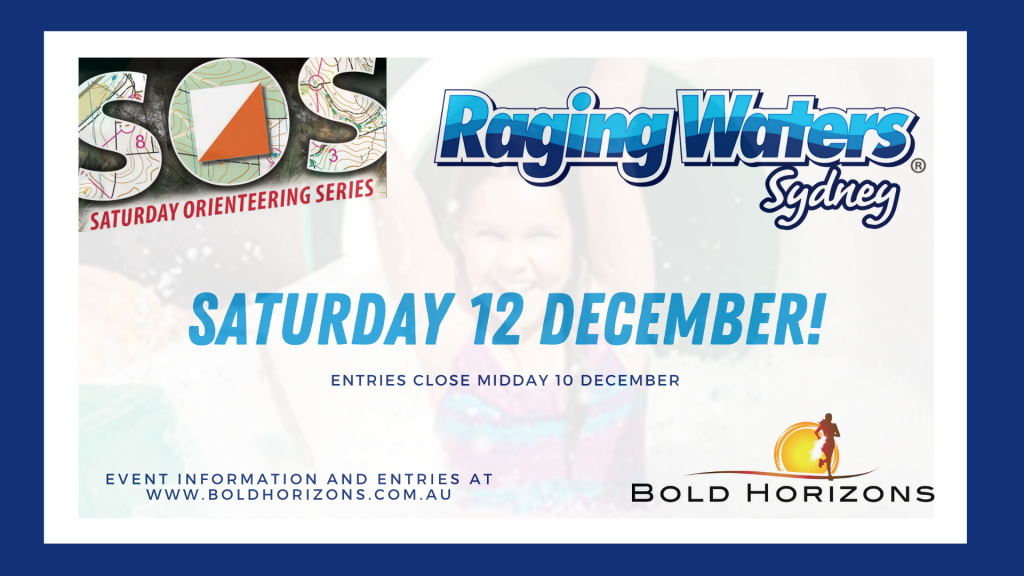 Event Date: Saturday 12 December 2020
Start window: 7:30am to 8:30am
Location: Raging Waters Sydney, 427 Reservoir Rd, Prospect NSW
Courses:  For this unique event, more course options will be available than at our weekly SOS events conducted throughout the year.   Test yourself on the Cyclone, Typhoon or maybe Riptide.  Numbers on each course will be strictly limited due to the tight start window.  Both the longest 4km course and the 3km course have two variations to accommodate more runners.  Further course information is included below with ticketing details.
Course Closure: 9:20am
Pricing: Due to the unique nature of this event and very special location, entry is dearer than our weekly SOS events.  Most courses have a $30 entry fee however shorter courses, that are likely to be popular with children, have a discounted entry fee.  Group members and spectators will also be required to purchase a ticket for this event.  Families that have a an entry fee beyond $100 should please contact Bold Horizons in advance so that we can arrange a discount for you.  Similarly, if you are unable to make payment on line, please get in touch so that we can make alternative payment arrangements.  For orienteering club members with a valid Active Kids Voucher issued by Orienteering NSW the coupon code "AKP" can be entered at the checkout for a $10 discount on entry.
Parking: Car parking is available on site from $10 per day.  See the Raging Waters Sydney website for further details and additional transport options.
Raging Waters Sydney Park access: Note that rides will not be operational during the orienteering event.  After completion of courses, all guests will be required to exit Raging Waters Sydney.  Discounted tickets ($45) can now be purchased to re-enter the Park on opening at 10am.  Guests are invited to slide the rest of the day away.   Is there a better way to cool down after orienteering and escape the Sydney summer heat?  After entering the orienteering event, entrants will receive a discount code in their entry confirmation email along with instructions on how to claim the discounted ticket.  Essentially, this code can be entered when purchasing a park ticket via the Raging Waters web site.  We recommend purchasing Raging Waters Sydney tickets in advance.
COVID: This event will be conducted with protocols in place around the reduction of COVID-19 risks.  Please monitor advice from NSW Health and observe all guidelines if you are planning to attend the event.  A compulsory temperature check will be required prior to entry into the park and everyone planning to enter the park for the event will require a ticket through this website.  Should COVID restrictions tighten and the event need to be postponed or cancelled, refunds will be available.  COVID-19 Participant Guide
FURTHER INFORMATION AND ENQUIRIES: Barbara 0418 270 476 or barbara@boldhorizons.com.au
SOS events are conducted on a weekly basis in each school term and across different regions in Sydney.  The events are open to all ages and beginners are always welcome.  More information is available on the Saturday Orienteering Series web page.
Event entry terms and conditions.
Bookings