Date/Time
Date(s) - 01/05/2022
9:30 am - 4:00 pm
Location
Fairley Dams
iCal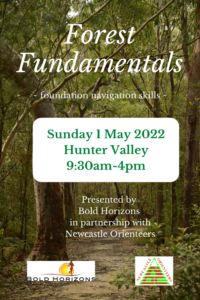 This training day is open to novices and experienced orienteers with the focus being cross-country or bush orienteering skill development.
The session will be conducted in association with the Newcastle Orienteers NOY event on the same day..
Venue: Fairley Dams, West Wallsend. Directions: See the Newcastle event flyer (we will be at the same venue)
For people new to bush orienteering, Bold Horizons will conduct our Forest Fundamentals session for the full day. We will work through understanding orienteering maps and course requirements as well as fundamental navigation skills including the introduction of contour interpretation and compass use. The session will start at 9:30am and run through until mid-afternoon.
For experienced orienteers, we recommend registering for the Newcastle NOY event (separately in Eventor) in your appropriate class for the morning and registering for the afternoon training session. After completion of your NOY course, there will be an opportunity to review your route and decisions plus participate in sessions to practice and develop navigation skills in the afternoon.
BYO snacks, lunch and water for a full day.
Bookings
Bookings are closed for this event.