The Saturday Orienteering Series is open to everyone!
No experience is necessary and courses are ideal for anyone wishing to get some exercise and immerse themselves in a mini adventure. Both beginners and experienced orienteers are very welcome. Students, mums, dads, uncles, aunts, friends, grandparents: all ages can run or walk and enjoy the SOS.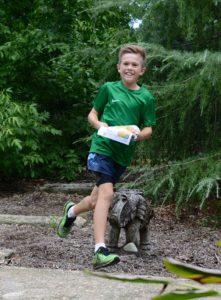 Events are conducted for six weeks, each school term.  'Summer' is terms 4 and 1. 'Winter' is terms 2 and 3.  Our northern Sydney series runs in all four school terms and in terms 2 and 3 we also run a second series centred in The Hills District.
All events are in well bounded areas and we do our best to avoid roads.  They are ideal events for all ages and experience levels.

EVENTS – SUMMER 2018/2019
20/10/2018
Wahroonga – Knox Grammar Preparatory School
(enter of Sutherland Ave, parking is best on Billyard Ave)
27/10/2018
West Pymble – Bicentennial Park
(meet at the West Pymble Guides Hall)
03/11/2018
St Leonards – Northern Sydney TAFE, St Leonard's campus
10/11/2018
Waverton – Waverton Park
(meet at the Waverton North Sydney Club)
17/11/2018
Chatswood – Chatswood High School
24/11/2018
Wahroonga – Knox Grammar Senior Campus
02/02/2019
North Sydney Boys High School
09/02/2019
Northern Sydney High School
16/02/2019
Northern Sydney High School
23/02/2019
Northern Sydney High School
02/03/2019
Northern Sydney High School
09/03/2019
Northern Sydney High School
 Please check this web page or our Facebook page in the week leading up to the event for assembly details.
EVENT STRUCTURE
Whilst some schools include the series as part of their Saturday morning sport offering, students are also welcome to attend independently of their school. Newcomers are encouraged to come along and try out the sport by attending any of the events. Whilst some students make it either their summer or winter sport and attend every week, students are also able to attend casually and only enter the events that fit in with the family schedule.
All events are on Saturday mornings in school grounds, parks and reserves around Sydney. The series is run during school term time.
At most events, 3 different courses are available to choose between. These are:
Score Course: For this course participants need to plan, navigate, run (or walk) and manage their time. There are 20 controls to find within a set time limit (usually 45 minutes). The controls are worth a variety of points, so there is strategy involved in deciding on the best return for time and energy before setting off. Anyone taking longer than the time limit starts losing points. On this course, the focus is on the personal challenge, making friends and learning some skills. Everyone 'wins' by finding at least a few controls, learning new skills and having a go. Entrants are welcome to head out on their own or team up for the course.
Short Line Course: On this course, the challenge is to find all the controls marked on the map in a set order. The course will be around 3 to 3.5km. The navigation is not too difficult for newcomers, however the finer challenges of optimising route choice and the need for speed and accuracy keeps the experienced orienteers on their toes. Orienteers are encouraged to tackle the challenge on their own but if they want to head out with friends or family then that is okay too.
Long Line Course: This course is similar to the Short Line Course but will generally be 4 to 5km long.
Electronic (SportIdent) timing is used for all courses and participants. Timing sticks can be purchased or hired at each event. They can also be purchased through ONSW partner AussieOGear.
The series is conducted in association with Bold Horizons partner, Orienteering NSW.
EVENT TIMING
Registration is from 9am and starts are any time between 9.30am and 11am.   Courses close at 12pm – this means that you need to check back into the finish by midday.
EVENT ENTRY
Entry is at the event. However if you are bringing along a group of more than 5 we ask that you please let us know in advance so that we can be sure to look after you. The best contact is Barbara – email on barbara@boldhorizons.com.au or call on 0418 270 476.
Entry cost is $10 for orienteering club members with their own SPORTIdent timing sticks or $15 for non-members hiring sticks. Cash or cards are accepted.
Term passes can also be purchased online at discounted rates.
SAFETY
Urban maps with distinct boundaries are used.
All runners check in and out.
Live GPS trackers are available.
ENQUIRIES
Barbara Hill, Series Coordinator.
Mobile: 0418 270 476
Email: barbara@boldhorizons.com.au
HERE'S WHAT OUR WINTER 2018 PROGRAM LOOKED LIKE.  WE EXPECT A SIMILAR SCHEDULE FOR 2019 BUT WITH SOME NEW AREAS TO EXPLORE.
          (start anytime between 9:30am and 11am)
NORTHSIDE
HILLS DISTRICT
  5/5/2018
Turramurra
(Twin Creeks Reserve, Howson Ave, Turramurra)
Castle Hill
(Castle Hill High School, Castle St, Castle Hill)
 19/5/2018
Bobbin Head
(near the Board Walk, Bobbin Head, Ku-ring-gai Chase National  Park)
Castle Hill
(Samuel Gilbert Public School, Gilbert Rd, Castle Hill)
 26/5/2018
Palm Beach
(by North Palm Beach Surf Lifesaving Club)
Baulkham Hills
(Baulkham Hills High School, Windsor Rd, Baulkham Hills)
 2/6/2018
Lindfield
(1st Lindfield Scout Hall, Slade Ave, Lindfield)
Rydalmere
(UWS Parramatta South Campus, Railway St, Rydalmere)
16/6/2018
St Ives
(Caleys Pavilion, St Ives Wildflower Gardens)
Baulkham Hills
(Crestwood Public School, Peel Rd, Crestwood)
23/6/2018
Term finale: Cumberland State Forest
(meet by the Visitor's Centre and stay on afterwards for a bbq)
28/7/2018
East Ryde Scout Hall
(John Miller St, Ryde)
Pennant Hills High School
(enter from Laurence St)
 4/8/2018
Lane Cove National Park
(enter from Lady Game Dr and meet by the weir)
North Rocks Public School
(North Rocks Rd, North Rocks)
11/08/2018
French's Forest Scout Hall
(Utyana Pl, Forestville)
Castle Hill Heritage Park
(Heritage Park Dr, Castle Hill)
25/8/2018
Manly Dam
(Picnic Area 1, enter from King St,
Manly Vale)
Uni of Western Sydney – Nirimba Campus
(meet by the Uni Library (Building C21), Warawara Circuit, Nirimba Education Precinct, Quakers Hill)
 8/9/2018
Lane Cove Scout Hall
(Blackman Park, Lloyd Rees Dr, Lane Cove)
Eric Mobbs Reserve/Bidjigal Reserve
(meet in Bidjigal Reserve, off the eastern end of Excelsior Ave, Castle Hill)
15/9/2018
Term finale: Willoughby Leisure Centre (at rear of building, by netball courts)
Small St, Willoughby
OUR SUMMER 2017/18 SERIES:
| | |
| --- | --- |
| 14/10/2017 | Chatswood High School |
|  21/10/2017 | Killara High School |
| 28/10/2017 | St Ives High School and St Ives Public School |
|  04/11/2017 | Robert Pymble Park, Pymble |
| 11/11/2017 | Normanhurst Boys High School (with indoor options to mix things up a bit 🙂 ) |
| 18/11/2017 | Knox Grammar Senior Campus |
| 19/11/2017 | Bandaged Bear BOOST at Pymble Ladies' College |
| 03/02/2018 | North Sydney Boys High School |
| 10/02/2018 | Killarney Heights High School |
| 17/02/2018 | Northern Beaches Secondary – Cromer Campus |
| 24/02/2018 | Mona Vale Public School |
| 03/03/2018 | Mimosa Public School/Davidson High School |
| 10/03/2018 | Duffy's Forest with an end of season swim and BBQ. |